Resolutions, Goals, and Reality!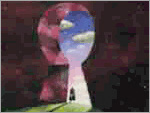 Resolutions, Goals, and Reality!
Every year fewer people make New Year's Resolutions because only 8% actually accomplish the resolution that they set for themselves. Gym memberships soar Jan 1, as people vow to lose weight and exercise more. By Super Bowl Sunday, those same gyms are half-empty, as most of those who joined will have lost their resolve and have given up.
People will resolve to make all sorts of changes in their lives, but will soon resort to the same activities that they performed previously. The sad thing is that most people will not even try, as they have met with failure too many times in the past. They will simply resort to the status quo and hope that somehow, things will change and their life will improve.
"You may be disappointed if you fail, but you are doomed if you don't try."
Beverly Sills–Opera Singer
Statistics show that it is very unlikely that your life will improve, and in reality, things will probably get much worse. The statistics on the fate of the Baby Boomers (most of us), is somewhat depressing, as we are the "sickest" generation to ever reach retirement. Unless we take serious corrective action, most of us will not be able to enjoy the "Golden Years" and will instead experience "Tarnished Years".
It does not have to be that way, but it does require serious, committed action on our part to make the changes necessary to improve our lives. Why is it so difficult to change and why do so many people fail?
C = D x V x F > R
The equation above is known as the formula for change. A great deal of research (Gleicher) has been done on what it takes to accomplish meaningful change, and the formula applies whether it is a business that is being reinvented, or a personal goal. It states that change will occur only when the following elements exist. Change only occurs when dissatisfaction times vision times first steps are greater than the natural human resistance to change. In other words, you must be dissatisfied with the current situation, have a vision of how good things could be, and know and be willing to take the first steps necessary in order to overcome the resistance to change.
"The indispensable first step to getting the things you want out of life is this: Decide what you want."
Ben Stein – Professor and Writer
Rather than making a "standard" resolution, I challenge you to look deep into your soul and find at least one area of dissatisfaction. Once you have identified it, create a vision of how good things could be if you overcame that demon in your life. The vision must be so strong and so compelling that you are willing to pay whatever price it takes to make that vision a reality. Only then will you accomplish what may have otherwise seemed impossible. You have the power to make extraordinary change in your life if you are willing to accept the challenge and follow through on the commitment.
Resolutions do not work! Realistic goals and the determination to see them come to fruition work every time, as long as you commit to them and have the perseverance to see them through to reality.
"The secret to productive goal setting is in establishing clearly defined goals, writing them down and then focusing on them several times a day with words, pictures and emotions as if we've already achieved them."
Denis Waitley
"The best way to predict the future is to create it."
Peter F. Drucker
I hope that you will take the admonitions in the above quotes seriously and create a future that gives you the happiness, health, and wealth that you desire and deserve. Please use the last quote below to help you develop a life-long passion for success and all of the wonderful, meaningful experiences that you can accomplish just by choosing to make them a priority. Remember to dream and then take the action steps necessary to turn those dreams into reality in your life. You have no limitations other than those that you impose on yourself.
Most AquaJogger® subscribers have already made a 6 month plan to "Drop it in 6". I encourage you to go even further and set a goal to complete a one-year plan in the rest of 2006 that will bring all of the joy, satisfaction, and reward that you need to be able to carry that forward for a lifetime and reach the ultimate goal of self-actualization.
Are you ready to live your life to the optimal level? How good could things really be? Are you ready to find out? Go to gethappy-gethealthy-bewealthy.comand check out my home study seminar for great tools in goal planning and execution.