AquaJogger® – Customize Your Workout
Excerpted from AquaJogger's Water Workout Guide
Find exercises for your water workout on AquaJogger's online.
Water Workout Guide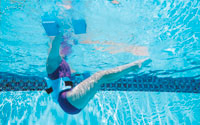 Warm up
After you have entered the water, start with easy movements. Focus on the entire body, head to toe. Flex and extend all the joints, keeping movements at a low to moderate speed. Use a light pace and smooth flowing motions for 2-3 minutes. Begin slowly with a smaller range of motion (ROM), gradually increase both speed and ROM.
Thermal Warm up (pre-aerobic)
As you warm up, workout at a low to moderate pace using long slow movements, such as cross country skiing, running or rock climbing. The thermal warm-up is designed to prepare your body for the aerobic water workout by:
– Increasing heart rate
– Increasing respiration (breathing)
– Mentally preparing you for a water workout
– Increasing blood flow to muscles
– Promoting body awareness
Main Session
20-40 minutes of continuous aerobic activity. Workout within your personal fitness level and established medical guidelines. Maintain an exertion level that allows you to keep your breathing under control.
Two water workout options:
Endurance training
Perform movements at a consistent pace. Incorporate long body movements, and keep breathing comfortably during your water workout.
Objective:
Increase cardiovascular endurance, improve body composition and burn fat.
Interval training
Alternate between moderate speeds and faster sprints. Use smaller movements at a faster pace with rest intervals ranging from 30 seconds to 2 minutes in duration.
Objective:
Increase anaerobic capacity, muscular endurance, alleviate boredom and burn fat.
Strength Water Workout (optional)
5-15 minutes of abdominal and/or arm exercises. See the DeltaBells for specific exercises.
Cool Down
3 minutes of easy fluid movements in the water. Decrease speed and perform movements which emphasize those muscle groups worked out during the session. Maintain proper body alignment during stretching.
Objective:
Return heart rate to normal range, prepare the body to leave the water, complete the session, increase flexibility.
The time durations given in "Water Workout" are simply guidelines. The length of the water workout should be gauged according to your fitness level and individual needs.